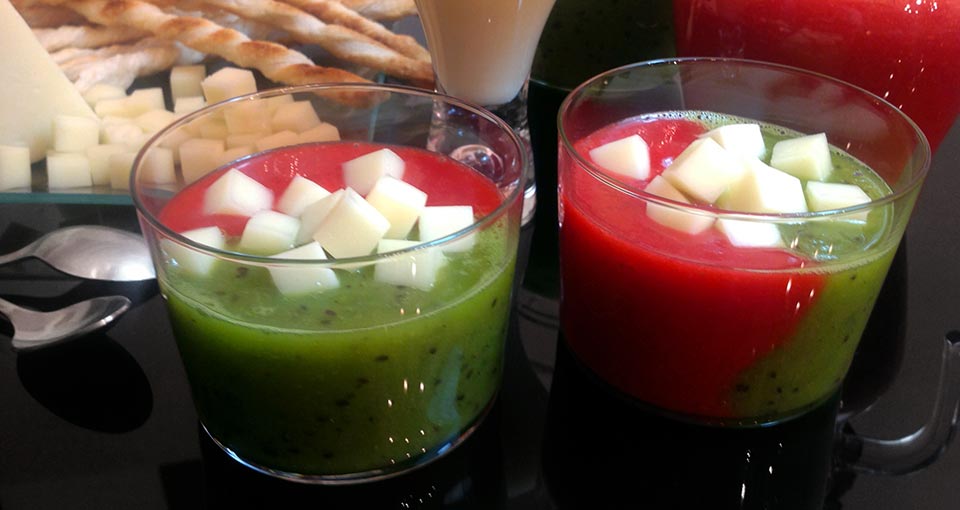 Bicolor juice with El Becerril tender cheese

INGREDIENTS
El Becerril Tender cheese cut into tacos.
1/ 2kg of ripe kiwis
1/2 kg of ripe strawberries
Sugar (Can be substituted for sweetener)
A cup of water
Condensed milk (Optional)
Puff pastry
PREPARATION
-Heal the water to dissolve sugar and make some syrup.
-Peel the kiwis, chop and crush them with the blender. Reserve in a jar.
-Clean the strawberries, chop and shred. Reserve in another jar.
-When the syrup is cold add a few teaspoons in the fruit, the kiwi usually needs a little more syrup than the strawberries to lose the acidity (Do not make them very sweet).
- In a transparent glass carefully decant the liquefied fruit with the two jars at the same time, each one on the side of the glass, to get the bicolor juice and not to mix.
-Put some cheese taquitos in the middle.
- Add a splash of condensed milk (if the milk is put before in the jars and stir it, we obtain pastel colored juices).
-Assemble with thin strips of puff pastry spirally and baked at 180 degrees for 10 minutes until golden brown, (you can add a little sugar on top before baking).