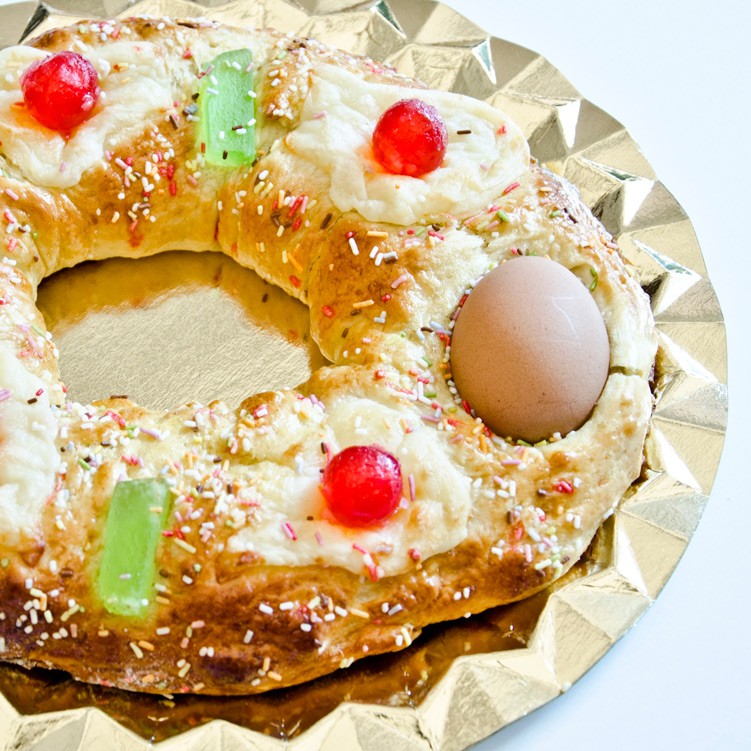 Easter cake with manchego cheese P.D.O.

INGREDIENTS:
1 cup sugar
2 cups water
1 cup oil
1 cup egg
3 fresh yeast tablets
1 kg of flour (adjust quantities to what dough holds)
Candied fruits
2 boiled eggs
Lemon zest
1 egg for brushing
PREPARATION
Mix sugar, lemon zest, water (previously warmed up to undo the yeast), fresh yeast and oil in a bowl. Prepare an homogeneous liquid and then add flour slowly until dough is soft. Let the dough ferment covered in order to let it grow.
We can mold it in roll form and can be filled with angel hair paste or sweet potato (to your taste).
Beat the egg and spread it over. Garnish with fruit, cheese and boiled eggs. You can add other ingredients to your taste.
Bake during 15 minutes more or less without allowing it to burn at high temperature.