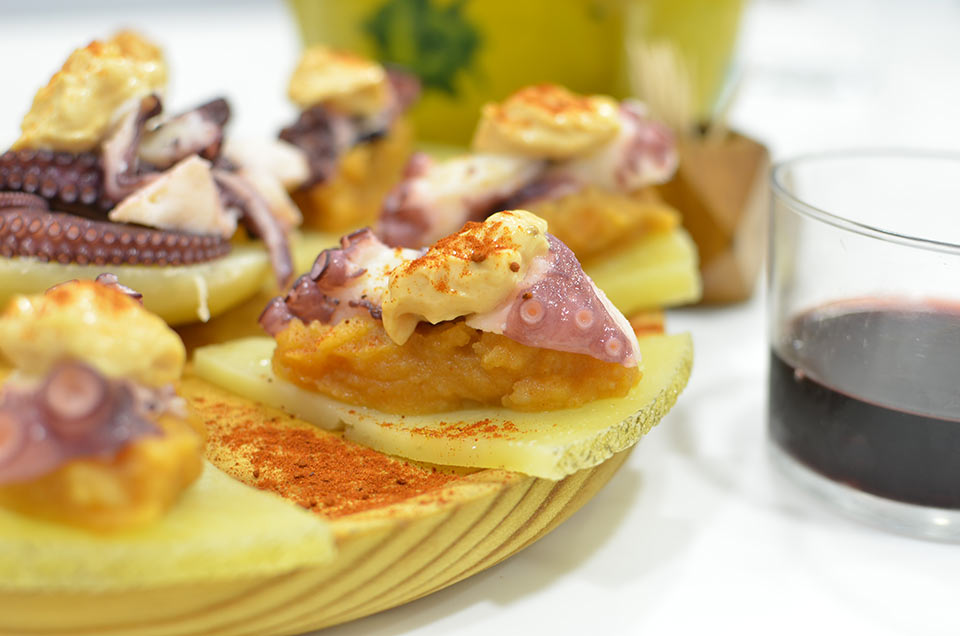 Galician style Octopus with Las Terceras Manchego cheese P.D.O.

INGREDIENTS
½ octopus
2 big potatoes
200 ml. Whole milk
150 gr. Butter
Rosemary and other aromatic spices
Garlic oil
Sweet paprika
Olive oil and salt
PREPARATION
Potato puree steps:
Peel and cut 2 large potatoes into medium pieces. Fill a large pot with water and add a pinch of salt. Bring to a boil, add the potatoes and simmer them until very tender. When the potatoes are done, drain them. Meanwhile, heat 200 ml. of milk with aromatic spices and 150 gr. Of butter in a small saucepan over medium-low heat, stirring occasionally, until butter melts. Mash the potatoes until smooth. Pour warmed cream mixture over potatoes in a slow, steady stream, and stir until smooth. Season with coarse salt and freshly ground pepper to taste.
Octopus steps:
The day before, take the octopus out of the freezer and leave it in the fridge to thaw. Fill a large pot with water and when the water starts boiling, grab the octopus by the head and dip the octopus 3 or 4 times in the boiling water. Boil the octopus for about 35-40 minutes over medium heat. When the octopus is done, remove from the boiling water, place in a platter and let it cool.
Slice the octopus with scissors and serve on a wooden platter: place the Manchego Cheese on the bottom and add a tablespoon of potatoes puree. Then the octopus and finally a teaspoon of garlic oil. Season with a pinch of salt and the paprika, and a splash of olive oil.