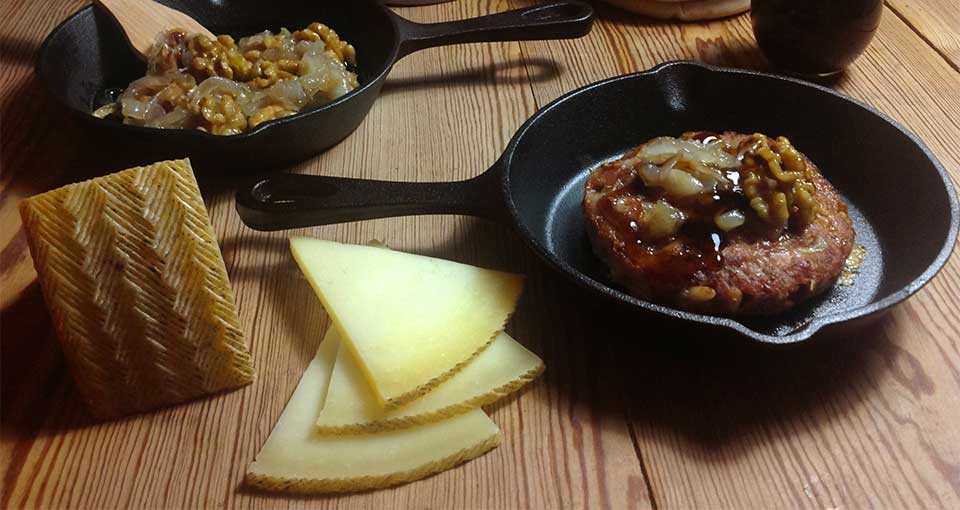 Gourmet Burger and caramelized onion with Las Terceras Manchego cheese P.D.O.

INGREDIENTS
For 8 Burgers
250g of minced beef
250g of minced pork
200g of Las Terceras semicured cheese cut into very small cubes
100g ham, cut very small
50g of pinenuts
4 tender garlics cut very thin
Parsley
1 \ 2 teaspoon of anise seeds
2 or 3 tablespoons of rosemary
2 tablespoons of sweet paprika
A little spicy paprika
Ground black pepper
2 large eggs
Salt
Bread crumbs
Transparent paper
For Caramelized onion:
Olive oil
3 or 4 onions
12 nuts
Salt
5 or 6 teaspoons of sugar
PREPARATION
Caramelized onions:
Put oil in a pan, lightly fry the walnuts with a little salt, take out and reserve. Add the onion to the oil, simmer. When it is fried, add the sugar, let it cook a little more, add the nuts, stir a few seconds and remove from the heat.
Burgers:
-Mix all the ingredients, knead the ingredients.
-Divide them into eight equal parts (150g) and make small balls.
-In a mold (or on a board) put a layer of film, the meat ball and another layer of film, crush.
-Remove from the film and roast over medium-low heat.
- Serve the hamburger with a spoonful of caramelized onions and walnuts.