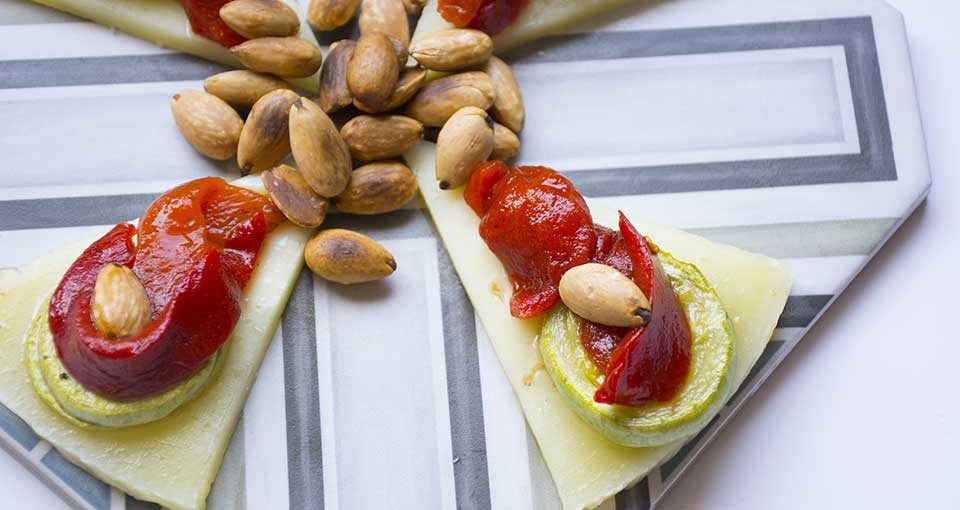 Las Terceras Manchego cheese PDO with sauteed vegetables

INGREDIENTS
Zucchini
Red pepper (natural or roasted)
Fried almonds
PREPARATION
Wash the vegetables. Cut the zucchini into thin slices and the pepper into pineapple strips. Preheat the oven 10 minutes at 200ºC. Place the vegetable in a baking dish and sprinkle with a little oil and salt to taste. We lower the temperature of the oven to 150ºC and bake for 20 minutes, turn the vegetables over and continue baking until the vegetables are cooked. Remove from the oven and carefully peel the peppers. Finally, we serve. Place the vegetable on the wedges of Manchego cheese and accompany with fried almonds to contrast. You can also include roasted onions.
Fried almonds preparation:
Heat the pan over medium heat with 3 tablespoons of olive oil and when the oil is hot add the raw and peeled almonds. Stir frequently until browned. Remove from heat and place on a plate with absorbent paper. Add salt to taste and let cool.