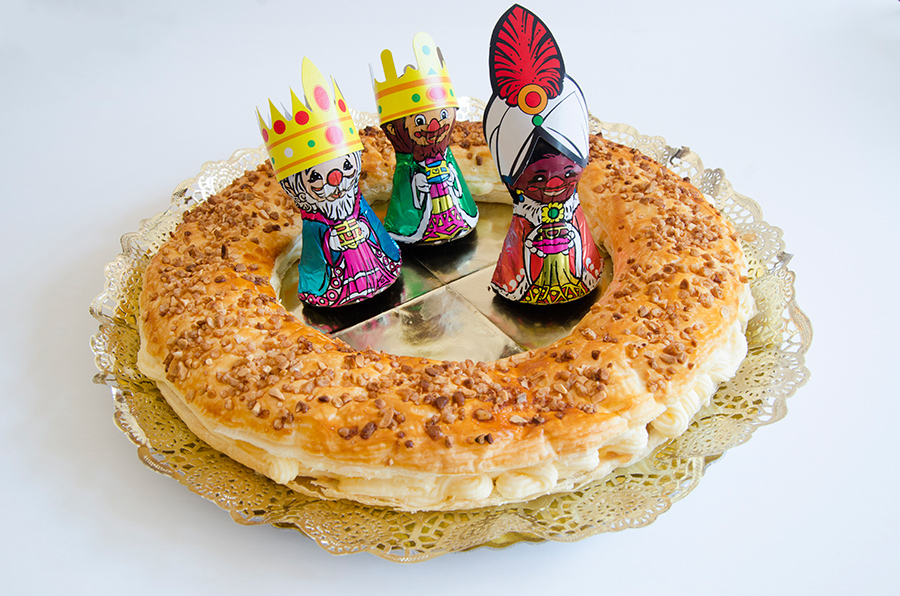 Las Terceras Manchego Cheese P.D.O. King Cake

INGREDIENTS
1 Package of puff
50gr Heavy cream
200ml whipping cream
100gr Sugar
3 eggs
3 sheets of gelatin
Cream quince
Crunchy almonds handful
PREPARATION
Prepare the pastry ( use two packages if you want it more consistent) . Make a hole in the center and spread the dough with beaten egg. Add type crunchy almonds (optional) and bake Let it cool and cut in half
Make A cream cheese: Beat the cream with striped cheese , put the mixture in a saucepan and stir until creamy.
Make a cheese mousse: Beat the egg yolks with sugar and add the cream cheese . Dissolve the gelatine leaves in warm water and add them to the mix. Add whipped cream and egg whites until stiff, stirring carefully. Put the dough into a pastry bag and store in the fridge a few minutes.
In one half, spread quince cream, put a small gift and a bean; spread with cheese mouse and cover it with the other half of the dough.
Refrigerate for 2 to 3 hours.