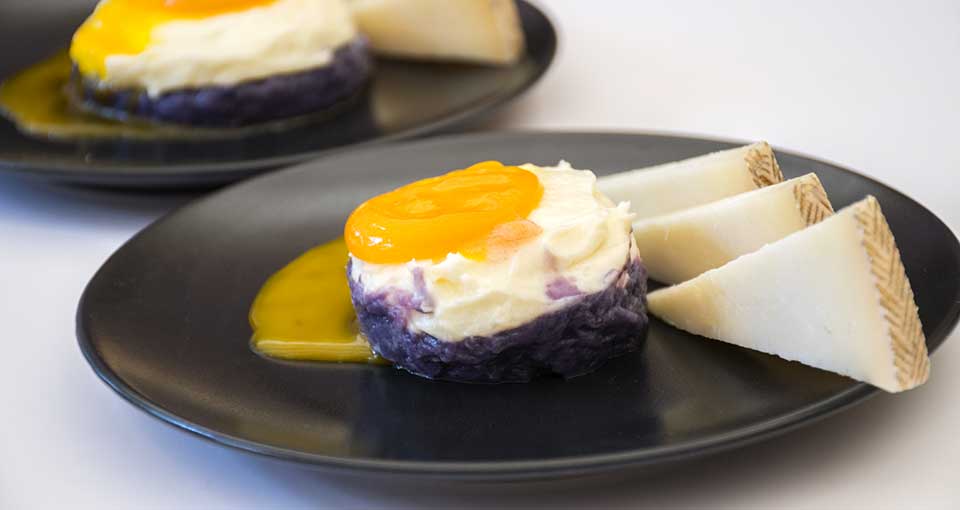 Purple potatoes purée with Las Terceras cream cheese

INGREDIENTS
2 purple potatoes
175 gr of Manchego Cheese Cream:
1 Cured yolk:

A big egg
60 gr of salt
60 gr of sugar
PREPARATION
Purple potato purée: We peel the potatoes and cook them in a small casserole without softening them. We crush them mixed with a pinch of salt and pepper and add olive oil to our liking until we get a puree.
Cream cheese: In a saucepan, we introduce the semi-cured Manchego cheese Las Terceras already grated together with the thick cream and heat. We stir without stopping until the cheese melts. Let cool and then beat the mixture well until the elements are completely integrated. We booked in the fridge.
Cured yolk: In a bowl, mix the salt and sugar in equal parts. Meanwhile, we separate the yolk from the egg white and carefully introduce the yolk into the previous mixture. We cover it completely with care and reserve for half an hour, after which, we carefully clean the yolk so as not to break it.
To place it: With the help of a ring-shaped mold, we add the purple potato purée to the plate. Add the cream cheese on top and, finally place the cured yolk on top of everything.