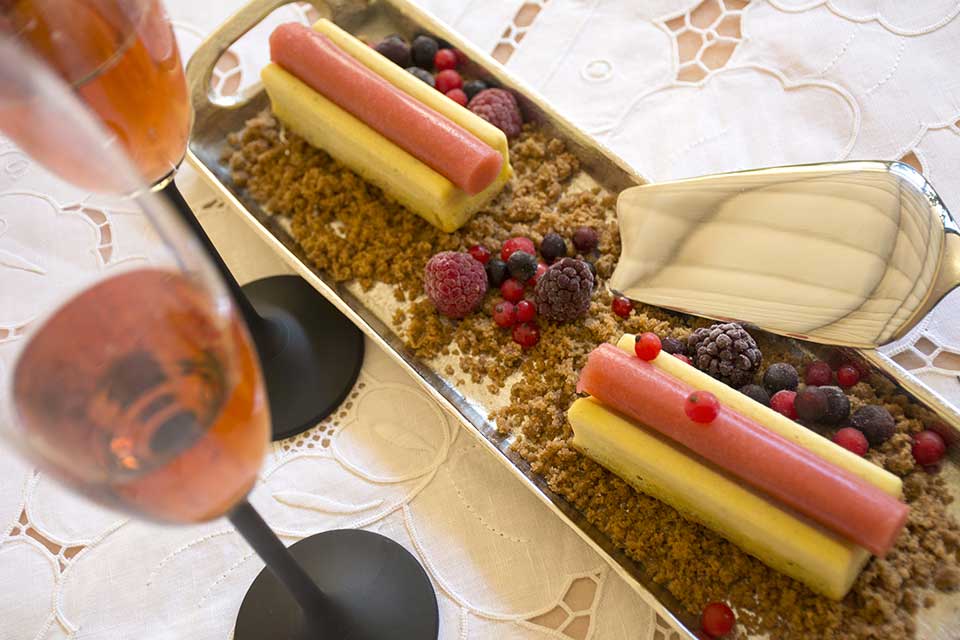 Manchego cheese cake with strawberry jelly

INGREDIENTS
180 gr. of semi-cured cheese Las Terceras.
60 gr. thick cream
72.5 gr. refined sugar
2.5 gr. flour
2,5 gr cornstarch
55 gr. whole eggs
25 gr. yolks
10 gr. cream
0.5 gr vanilla pod
Cookie ingredients
50 gr. Maria cookie
25 gr. melted butter
Gelatin ingredients
140 gr. of crushed and sieved strawberries
14 gr. sugar
2.5 sheets of neutral gelatin
A few drops of lemon
PREPARATION
Mix the semi-cured cheese and the thick cream in the blender to obtain the cream cheese. Mix the cream cheese with the sugar, vanilla, flour and cornstarch, beat everything together adding the eggs little by little and the yolk. Finally, add the cream, fill the mold of the cake and reserve.
Crumble the cookies and mix them with the butter. Add to the mold and once full, put in the oven in the water bath (with 2/3 of water) at 120º for 35 minutes. When it is completely cold freeze it.
Meanwhile, we prepare the gelatin: Crush the fruit, sift it and add a few drops of lemon. Put the gelatine leaves in cold water and mix it with the fruit until you get a homogeneous mixture. Put it in the mold and let it set. Assemble the gelatin on the cheesecake.