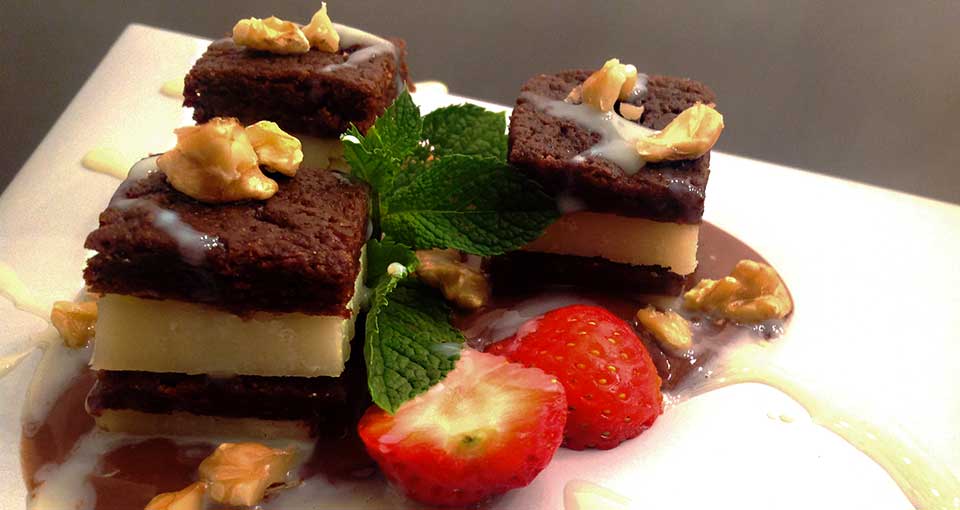 Brownies with Las Terceras Manchego cheese P.D.O.

INGREDIENTS
200g of grated black chocolate
80g.de flour
100g butter
4 or 5 eggs
100g of sugar glass
1/2 teaspoon of baking
1 Teaspoon vanilla extract
75g of chopped walnuts
1 or 2 tablespoons of chocolate powder
PREPARATION
Cover with foil a baking tray, spread with butter and sprinkle with chocolate powder.
- In a bowl, we put the grated chocolate and the butter, we heat it minimally to be able to make a cream
-In another bowl, beat the eggs together with the sugar (until it is very frothy) add the baking soda, vanilla and flour. Put the mixture of the previous bowl together and stir well.
- Pour the dough into the baking tray and add the nuts.
- We bake it at 180 degrees for 20 minutes, cover it with aluminum foil and continue baking 15 minutes more.
- Let it cool and cut it in half with great care. We fill it with Las Terceras cheese in thick slices and cut it into portions.