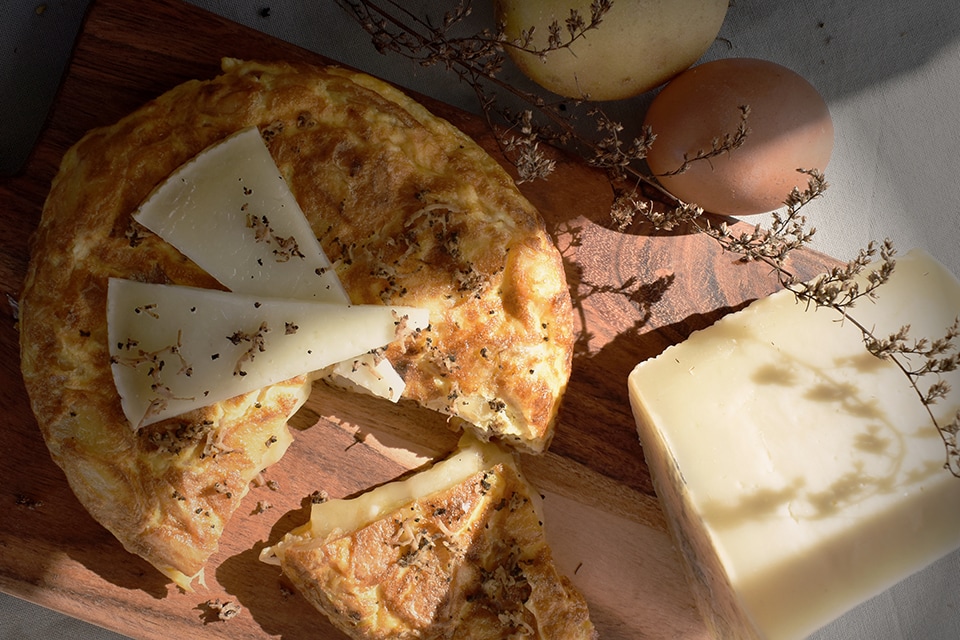 Potato omelette with onion and Las Terceras semi-cured Manchego cheese PDO

INGREDIENTS
3 Potatoes
1 onion
4 Eggs
Olive oil
Salt
1 truffle
PREPARATION
Cut the onion into pieces (approximately 1cm2) and fry it. Remove from the pan and reserve.
Peel, cut and fry the potatoes. Remove from the pan and reserve on a plate with a couple of absorbent napkins to remove excess oil.
In a large bowl, beat the eggs and add the onion, potato and a pinch of salt.
Cut wedges of Las Terceras Manchego Cheese, approximately 3mm thick, and reserve.
Heat the pan and put half of the mixture of the omelette. Then, place the cheese wedges -forming a circle, like pizza slices-. Then putt he rest of the omelette mixture over the cheese.
When the omelette begins to brown, flip it.
Take out the omelette. Place it on a plate and grate the truffle on top.
Cut and enjoy.