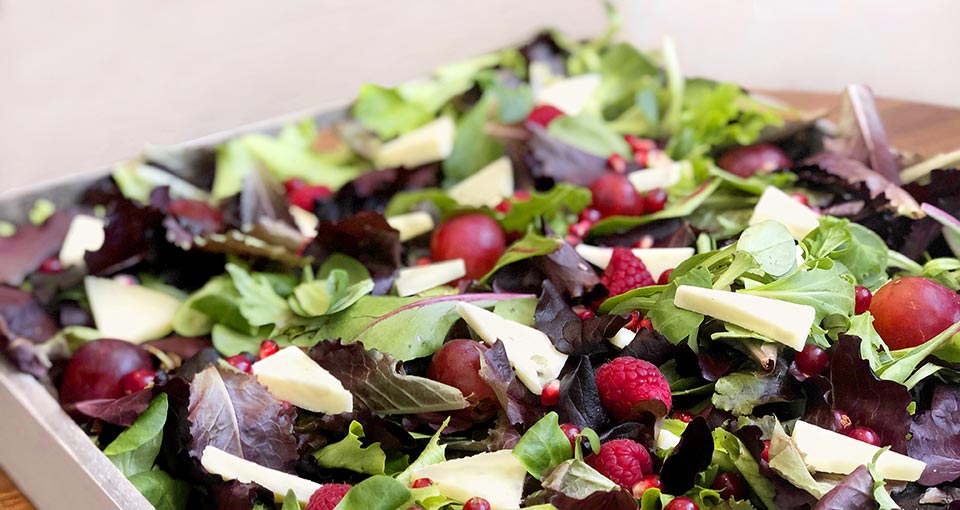 Red fruit salad with Las Terceras Semi-cured Artisan Manchego cheese P.D.O.

INGREDIENTS:
Red grapes
Raspberry
Currants
Variety of lettuces (iceberg, arugula, escarole, radicchio ...)
Ingredients for the vinaigrette:
½ lemon juice
½ lime juice
½ orange juice
1 teaspoon soft mustard
1 tablespoon of Apple Cider Vinegar
1-2 tablespoons of olive oil
Salt, black pepper
PREPARATION
To make the Vinaigrette, we mix all the ingredients in a small bowl and beat the contents very well until emulsifying. Reserve.
Next, we wash and drain the mixture of leaves and add it to the dish as the base of the salad. We do the same with the varied fruits and we include them on top of the lettuce. We cut the Las Terceras Semi-cured Artisan Manchego cheese in thin and small wedges and we include them in the salad. Finally, season with the vinaigrette and salt and pepper to taste.